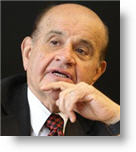 Peru's largest business association, Confiep, is calling for a plan to restart the economy in the northern region of Cajamarca, according to state news agency Andina.
Business in Cajamarca has been affected this year by protests against the Minas Conga gold and copper project. The development, majority-owned by U.S.-based Newmont Mining in partnership with Lima-based Buenaventura, is opposed by much of the Cajamarca population over concerns that it would hurt the water supply, as it originally required the draining of four high-mountain lakes. The company says it will build reservoirs to increase the supply of water.
Earlier this week, Cabinet chief Juan Jimenez said that overcoming the opposition to Minas Conga and moving forward on the project was no longer a priority. Instead, the government's main concern was reviving economic activity in Cajamarca.
The president of Confiep, Humberto Speziani, said he is prepared to help with recovering business activity in Cajamarca. He said that businesses are aware of the loss of jobs and other challenges facing residents in Cajamarca as a result of the slowdown in the region's economy.
"I was in Cajamarca last week and I talked with small companies, taxi associations, ranchers, hotels… that have been affected by the situation in the area, and we are very concerned," Speziani said.
He added, however, that protest leaders must take responsibility for the impact on local business. The protests have been led by Cajamarca's regional president, Gregorio Santos.
"Perhaps the regional authorities did not anticipate this situation, but they have to assume responsibility," Speziani said.
The head of the business group said that some are looking for a "financial rescue" for the region, which could include tax incentives.
"That would have to be studied," Speziani said. "I know that the Economy Ministry doesn't like those things, but in the case of Cajamarca it would have to see if an exception could be made."