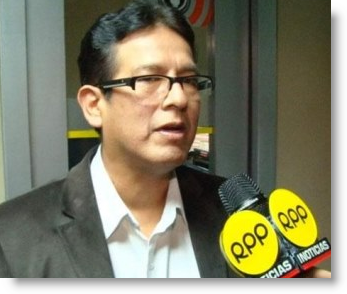 Sociologist Jaime Antezana, a recognized analyst of terrorism and drug trafficking, was released this week after two days in police custody, related to a libel complaint filed against him two years ago.
Antezana is being sued by the former governor of Huanuco, Luis Picon, after Antezana told Caretas magazine in 2013 that there was reasonable cause "to permit a fiscal and judicial investigation" into the politician's activities and that of his family because of possible links to drug trafficking and money laundering.
Police arrested Antezana in Lima, on charges that he had never attended the court summons.  Antezana, however, says that since the complaint was filed in 2013 he has never received a summons nor seen a court order for his arrest.
Antezana was released the day after he was hospitalized for an arrhythmia.
The state prosecutor for drug trafficking cases, Sonia Medina, said the case is still open and that no ruling has yet been made.
"What I really find strange is that because of a complaint there should be an order for Jaime Antezana's arrest.  I find that really strange," Medina said on Ideeleradio.  "We are back to the issue of how difficult it is for magistrates to weigh situations, because there are major criminals, mafiosi who should be inside and not necessarily someone who is being sued."
"Mr. Luis Picon may be disappointed, because I shall continue to investigate," Antezana said after his release.   He also questioned the fact that Picon has not himself been arrested, given that there are court rulings against him. "But nobody says anything" about it, Antezana added.
Monitoring the Presidential Campaigns
As other observers are also warning, Antezana is calling for close monitoring of the campaign finances building up to the general elections to be held in April 2016. Allegations and charges of drug trafficking and of money laundering have tainted several political parties, with Apra leading the list. But this week Antezana also mentioned Cesar Acuña, founder of the Alliance for Progress party, owner of two universities on the north coast, and a former congressman, who spent 30 million soles on his campaign for regional governor last year.
"He should be investigated for money laundering," Antezana said on RPP radio.