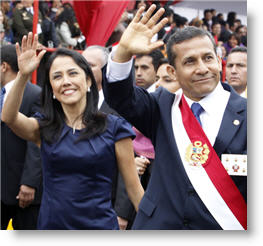 President Ollanta Humala's office swatted away a rumor that he had a child out of wedlock and that his relationship with First Lady Nadine Heredia is on the rocks.
The President's office issued a statement to "categorically deny the vile rumors and lies" aimed at "harming the head of State, the first lady and their family," according to daily El Comercio.    The office said the rumor was part of a "psychological campaign that has no other intention but to create concern and to distract the population."
The rumor, which came from opposition lawmaker Yehude Simon, hasn't been taken seriously by most politicians or political commentators.
Some analysts suggest that Simon's original Tweet saying that he had a "political bomb" was an attempt to distract attention from a congressional report on corruption during ex-President Alan Garcia's administration.  Simon said he was warning against someone using this information as a political maneuver — in his Tweet, he suggested that any media thinking of publishing this rumour should "think very seriously" before doing so.
But later Simon told Ideeleradio that the rumors should be clarified, adding that a child out of wedlock might lead to a divorce and "that would make it possible for Nadine Heredia to run for president."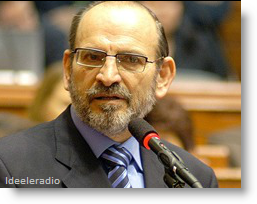 Simon, a former congressman and regional president of La Libertad, served as Premier during part of Garcia's government and may be implicated for alleged wrongdoing in the report of a congressional commission that investigated Garcia's administration.
Lawmaker Ana Solorzano, of Humala's ruling party Gana Peru, said Simon's "message of psychosis" seemed to mean "that we are in an era to which we would not like to return…. it is not good to create instability,"  referring to the manipulation of news and information directed by Vladimiro Montesinos during the Fujimori administration to undermine and destroy political enemies.
Recently, a member of Humala's party, Congressman Sergio Tejada, was accused of refusing to acknowledge an illegitimate child.  The news was generally seen as an Apra party move to discredit Tejada, who was president of the so-called Megacommission that investigated Garcia's presidential years. The commission's report is now before Congress for debate and Tejada and other lawmakers say there is sound evidence of wrongdoing by Garcia and several of his ministers.  The smear tactic against Tejada, in fact, turned against the accusers when it was found that the mother of the child had never wanted Tejada to acknowledge the child. The mother is suing the newspapers that published the story.   
President Alejandro Toledo faced public and media criticism when he refused,  until close to the end of his presidency, to acknowledge an illegitimate daughter born many years earlier.  President Garcia, meanwhile, sidestepped criticism by using the element of surprise, calling a press conference at the government palace to announce that he had a young son born out of wedlock. He made the announcement with his wife at his side.