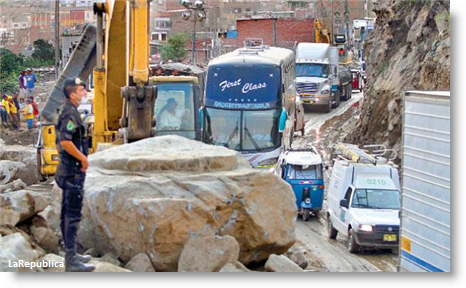 The central highway was partially reopened at Chosica on Friday, allowing traffic between Lima and the central Andes to resume after four days, following landslides — huaicos— of mud and huge boulders that blocked the road at the beginning of the week.
While the clean-up works continue, traffic is restricted to certain times for east- and west-bound traffic, and the Ministry of Transport has issued suggestions for alternative routes.
The closed road has led to restricted supplies in Lima of fresh produce from the central Andean valleys and also the Chanchamayo region, as well as other commercial products and minerals.
Four landslides killed at least nine people on Monday and destroyed homes and vehicles in their path. Electricity was cut off for close to 24 hours. The course of the slides was the gulleys in the Chosica area, around Km.36, and in Santa Eulalia and Cocachacra, following at least six hours of heavy rains.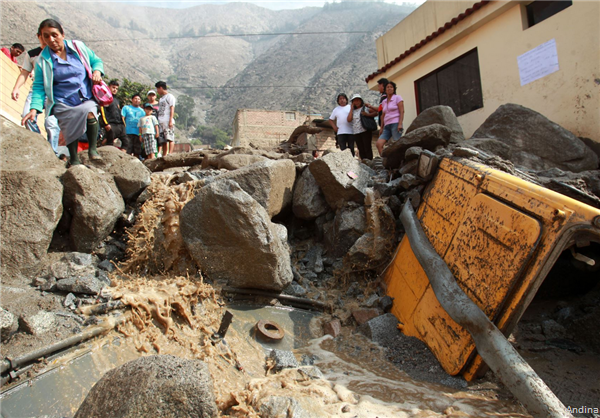 Visiting the disaster area, President Humala called on the Chosica population to respect Civil Defense regulations and refrain from building their homes in the gulleys along the valley, adding that the government will require that the residents in these narrow gulches will be required to relocate.
The gulleys are high-risk areas because they are the natural courses for landslides when rainwater accumulates at water sources high in the mountains.
Chosica, once a quiet winter vacation spot for Limeños , is now an overcrowded pit-stop on the main highway linking the commercial hub of the central Andes to the capital, Lima.  Old practices of never building in the pathways of landslides has been lost in the mass migration over the past  30 or 40 years, and the increased pressure for building space has been cashed in on by the municipal government, which has granted building permits in gulleys such as El Pedregal , which every rainy season acts as a course for usually minor landslides.
The town of Chosica and the valley of Santa Eulalia have been declared in emergency, allowing the government to release reconstruction funds and provide assistance to people who have lost their homes.