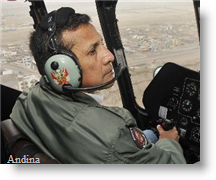 Peru's government approved a state of emergency for parts of the country's south that were hit by a magnitude 7.0 earthquake on Wednesday, daily La Republica reported.
The measure is to be in place for 60 days in the province of Caraveli and the district of Yanaquihua in Arequipa region, as well as the districts of Cora Cora, Pacapausa, and Lucanamarca in Ayacucho region. It will also be applied to the provinces of Paucar del Sara Sara and Lucanas in Ayacucho.
The measure will give officials special authority to provide aid to those affected by the quake and repair damage to infrastructure.
The quake struck 64km off the coast south of Lomas, in the southern Arequipa region on Wednesday just before noon, and was felt throughout the south and in the capital city of Lima.
The Civil Defense said there were three fatalities and several injuries from the quake. The fatalities were three miners who were killed when a small mine collapsed.
Rockslides blocked part of the Panamerican Highway, and several schools, health centers, homes and water pipes were also damaged.