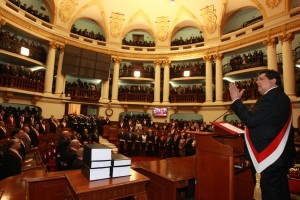 President Alan García gave his last official speech to the nation on Wednesday during the 189th anniversary of Peru's independence and less than a year before he leaves office.
García touched on a variety of topics during his speech at Peru's Congress, outlining the advances he believes have been made in the country since he began his second administration in 2006.
García said during the speech, which was published by state news agency Andina, that Peru's economic growth is a result of private investment over the last four years. Investment in that period has reached 200 billion soles (US$70.9 billion).
"If the state invested 65 million soles in four years, the private sector has invested and reinvested more than 200 million soles in the same four years," García said. "This has allowed for the creation of more than 2 million jobs and, more importantly, the proportion of formal and decent employment has been strengthened with relation to informal employment."
In addition, he highlighted the importance of the free trade agreements Peru has signed during his administration. Peru's has signed FTAs with the United States, Canada, China, and the European Union, among others.
García also said his administration has made advances in reducing poverty, adding that this was achievable by improving access to potable water and electricity and increasing literacy.
"The poverty rate, which a few years ago was 48 percent, has decreased to 34 percent and I am sure that we will fulfill our goal of reducing it to 30 percent in 2011, and thus open the path so that in 2021, the bicentennial of the Republic, we can reduce it to less than 10 percent," García said.
According to García, child malnutrition has declined from 22.9 percent to 18 percent during his administration. In addition, the infant mortality rate has fallen from 33 per 1,000 births in 2003 to 18 per 1,000 births in 2008.
Peru's presidential elections will be held in April 2011 to determine García's successor, who will be sworn in on July 28, 2011.