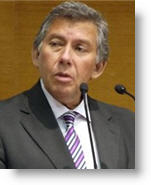 The delay in the massive Minas Conga gold and copper project in the north Andean region of Cajamarca should not affect investment in Peru's mining industry, according to the head of Peru's National Mining, Petroleum and Energy Society, Pedro Martinez.
"I hope there is no impact on investments," Martinez said, according to state news agency Andina. "There are other projects that are continuing their course in different regions."
Analysts had predicted that Minas Conga, which is majority held by US-based Newmont Mining, would be a bellwether for investments in Peru's mining sector: Industry and government officials were concerned that the failure to push it forward would result in other mining projects being held back.
The portfolio of mining projects in Peru would require total investments of more than $50 billion, with Minas Conga accounting for about $5 billion.
Minas Conga has been on hold due to opposition from the population in Cajamarca about its possible environmental impact, as its development would require replacing four lakes with reservoirs.
The project is highly unpopular in Cajamarca. Almost 80 percent of Cajamarca's population opposes its development, according to a poll last week by Ipsos-Apoyo. Fifteen percent of Cajamarca said they supported the project.
The dispute over the project resulted in five deaths last month, as well as two cabinet shuffles in the past eight months that included in both cases a change in President Ollanta Humala's cabinet chief.