Peru's Comptroller General, Fuad Khoury, is evaluating the possibility of lifting a blockade on the bank accounts of the central Ancash region, which is roiling in corruption allegations.
I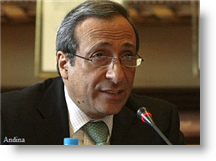 n April, the comptroller general requested that the Finance Ministry freeze the regional government's accounts, on the grounds of alleged corruption and concerns about the use of public funds. The freeze exempted the use of funds to pay regional staff wages and services.
Earlier this month, Ancash regional president Cesar Alvarez was detained by authorities on charges related to the April murder of a political rival who had criticized his administration over corruption allegations.
More than 30 other individuals, including regional officials, journalists, businessmen, and a mayor, were included in the arrest warrant in connection with the murder and criminal conspiracy. The charges include murder, blackmail, fraud, misappropriation of funds, and money laundering.
Meanwhile, the state prosecutor's office is to question four district attorneys who, in previous years, have closed investigations against Alvarez.
Khoury said Wednesday that his office reviews the case every 30 days, to consider the possibility of lifting the blockade on the region's bank accounts.
"We will be looking at it again, to see if we continue or not with the freeze," he said in comments reported by daily La Republica. "We will suspend it when we have the issue of corruption in Ancash under control."
Although most of the main leaders in the corruption allegations are currently detained, the investigations have revealed widespread corruption and networks within networks that include possible links to the regional governments in La Libertad and Tumbes, and confirmed links to gangs of hit men in Barranca and Chimbote, and the operations of a wire-tapping center in Chimbote.
Hearings on the wire-tapping center —known as "la centralita"— began May 28 in the industrial fishing port of Chimbote.  Ancash president Cesar Alvarez has been sentenced to 18 months preventive imprisonment against flight risk, while state attorneys seek a similar court order for 55 other individuals.  A warrant for the arrest of the deputy president of Ancash, Florencio Roman, has also been issued, for his alleged involvement in the wire-tapping operations.
Ancash is one of several regions where local officials are under investigation over corruption charges, often related to the use of funds during public works like roads, hospitals, and stadiums.