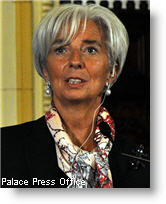 The head of the International Monetary Fund, Christine Lagarde, was in Lima Monday where she met President Ollanta Humala, on her first stop of a three-country tour in Latin America.
 Prior to her meeting with Humala, Lagarde had met with Finance minister Luis Castilla and Central Bank president Julio Velarde.
In a statement following her meeting, Lagarde, the 55-year-old former French Finance minister, said that Peru's economic achievements have been "very solid."
"While we believe the country's economic future is very promising, it is necessary to protect the advances achieved recently from the risks of the global crisis," Lagarde said.
Lagarde said that Peru can consolidate its economic achievements by promoting more inclusive growth. President Humala, 59, took office on July 28 with promises to promote "social inclusion," while also maintaining stability to promote economic growth.
Lagarde said that "important challenges" still persist in Peru's social agenda, including rural poverty, chronic malnutrition among indigenous children, and a lack of access to social services in rural zones.
"Those challenges can be dealt with efficiently through the joint efforts of the government, the private sector and society in general," Lagarde said.
Lagarde will also travel to Mexico and Brazil, Latin America's two biggest economies.