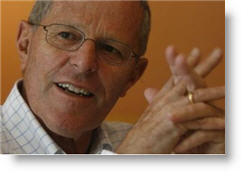 Peruvian economist and politician Pedro Pablo Kuczynski said the government's possible purchase of Repsol's La Pampilla refinery would be a "waste of money."
Kuczynski, who has served as Peru's Minister of Mines and Energy, Minister of Economy and Finance and Prime Minister, said the government would have to invest $1.5 billion in updating the refinery.
"It is a waste of money," said Kuczynski, who ran for office against President Ollanta Humala in the 2011 election.
"Where we have to invest is in the human sector, in people, and not spend on a refinery that already exists. We have to build a subway, provide potable water for a million people in Lima," Kuczynski was reported saying by financial daily Gestion. "It is a question of priorities."
Peru's government has confirmed that it is interested in buying the refinery, as well as Repsol's gasoline stations in Peru as the Spanish company looks to offload the assets to lower its debt. The purchase could happen through state-owned oil firm Petroperu.
Finance Minister Luis Miguel Castilla, a fiscal conservative, said this week that a deal isn't in the works anytime soon, as the government needs to do a "rigorous" cost-benefit evaluation of the assets.
Repsol has already sold some of its liquefied natural gas assets in Peru to Royal Dutch Shell.