Peru's government has begun to implement an international court ruling that establishes the new maritime border with its southern neighbor of Chile, according to Premier Cesar Villanueva.
Villanueva said that authorities are preparing to send Peru's Humboldt research ship to the area in order to do oceanographic investigations. The ship will be surveying an area of 28,000 square kilometers, that was previously under international jurisdiction.
Already in the area are the Peruvian Navy's coastguard ship San Martin and it's research ship Melo.
The International Court of Justice, ICJ, in The Hague ruled on Monday that the area should be part of Peru's maritime zone.
The court also gave Peru about 22,000 square kilometers that had previously been under control of Chile. That zone was part of an area of 38,000 square kilometers under dispute. Chile retains control of the remaining 16,000 square kilometers that is closest to the land and richest in marine life.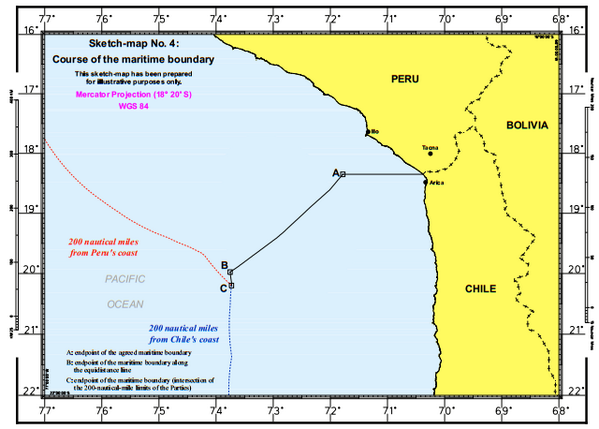 The ICJ has left it to Peru and Chile to map out the exact coordinates of the area.
Premier Villanueva said the exact border line that splits up the 38,000 square kilometer zone will be defined by the Peruvian Navy, working in consensus with Chile.
"We have to  compare and coordinate with them, but not negotiate," said Villaneuva, according to daily La Republica. "The implementation of [the ruling] has begun on our behalf and we are going to continue it," he added.
The coordinates are expected to be agreed on within several months. Chile has indicated that work will begin after Michelle Bachelet has been sworn in as President in March.
The Court's decision resolves a decades-long dispute between Peru and Chile over its maritime border. Government officials and business leaders in both countries have said they hope the ruling will help lay to rest an old dispute and strengthen ties between the Andean nations.
Trade and investment between Peru and Chile have increased steadily during the past decade. Chilean investments  of some $13 billion in Peru include several retail stores —Saga, Ripley and supermarkets Totuus and Wong/Metro—as well as the top airline, Lan, and projects in mining and agroindustry. Peruvian investment in Chile is now close to $10 billion and includes  the Brescia group's ownership of Lafarge, the country's largest cement company, as well as investment by the Romero and Belmont groups, and the Graña y Montero construction company.
While Peru gained a large patch of the territory that it had claimed before the international court, Chile has maintained the most fishing-rich area.
Meanwhile, Bank of America Merrill Lynch said in a report Tuesday that the ruling could help boost the popularity of Peruvian President Ollanta Humala, which fell sharply in 2013.
"The Court's decision more or less splits the maritime claims by Peru and Chile. Though it implies gains for Peru with respect to the status quo, overall it is not seen as that bad on the Chilean side," it said. "The perception of victory in Peru may help lift President Humala's flagging popularity."