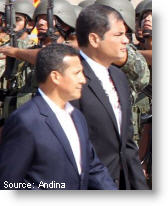 The Presidents of Peru and Ecuador, and their cabinet chiefs and ministers, are holding a full day of meetings today in the north coast city of Chiclayo, to discuss binational integration issues.  Members of Congress are also holding parallel meetings.
President Ollanta Humala welcomed President Rafael Correa shortly after 9:30am February 29 at the Gran Hotel Chiclayo, where most of the presentations and meetings are being held. Later in the afternoon, the formal signing of documents and agreements will take place at the iconic Lord of Sipan Museum, just north of the city in Lambayeque.
This is the fifth presidential meeting between both countries in the past 15 years, an effort initiated by President Alberto Fujimori —following the Cenepa border war in 1995 and the 1998 Itamaraty peace treaty— and continued by Presidents Alejandro Toledo and Alan Garcia.  
Early in his first term, Fujimori was the first President of Peru ever to visit Ecuador, which had never accepted its border limits with Peru despite several peace treaties before and after a border war in 1942.
A special recognition was made this morning of the Binational Landmine Commission, which with the help of the UN and landmine experts, is in charge of removing the landmines both nations buried along the Cordillera del Condor border during the Cenepa conflict.
The agenda for today's meeting includes Infrastructure and Connectivity, presented by Ecuador's minister of Transport and Public Works, Maria de los Angeles Duarte; a binational Social agenda, led by Peru's minister of Social Development and Inclusion, Carolina Trivelli; Production and Environmental issues, by Ecuador's minister of Production, Employment and Competitiveness, Santiago Leon; and Security and Defense, led by Peru's Defense minister, Alberto Otarola.
Flavio Mirella, head for Peru and Ecuador of the UN office on drugs and organized crime, UNODC, said the binational meeting was an ideal space to strengthen information exchange and cooperation strategies to combat illegal drug traffic.  The permanent mixed border commission, he said, works intensely on the problem but it is fundamental that the cooperation be discussed at the broader binational meeting.