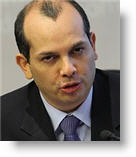 Economy and Finance Minister Luis Miguel Castilla said Tuesday that the government is working to maintain economic growth while establishing social peace in Peru, state news agency Andina reported.
The comments come as a string of anti-mining protests in the Andean nation have led to several deaths over the past several of years. The latest violent clash between protesters and police occurred this week when two people were killed during demonstrations against Swiss mining company Xstrata's Tintaya copper operation in southern Peru's Espinar province.
The protests led to a state of emergency being declared by the government in order to restore order.
Other protests have targeted Newmont's Minas Conga project in Cajamarca, in the north Andean highlands, and Southern Copper's Tia Maria development in Islay, in the southern department of Arequipa.
"The unfortunate events in Espinar, and others that are occurring in the country, should lead us to reflect that… without social stability and social peace it is going to be very difficult for investment flows to continue increasing," Castilla said.
He said the government of President Ollanta Humala, who has promised social inclusion as a key pillar in his policies, is aware that economic and political stability are not enough to ensure future prosperity, but that it also needs to work on social issues.