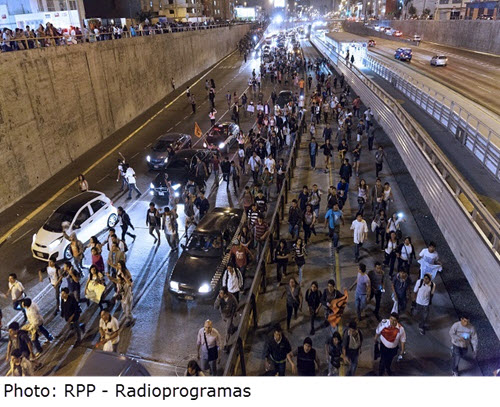 Opponents of a new youth labor law took to the streets again on Monday, a third time that students and others have protested the legislation.
Newspaper Peru.21 reported that hundreds of young people gathered in downtown Lima's Plaza San Martin to protest against the youth labor law, which has faced significant backlash since it was approved earlier this month.
Peruvian media reported that police were stationed throughout Lima's historic downtown to provide security and prevent the protests from getting out of hand.
Opponents of the legislation also held protests outside the private home of President Ollanta Humala, located in Lima's Surco district, as well as in front of the office of Peru's biggest business organization, Confiep, in San Isidro.
President Humala and other high-ranking government officials have said the law is key to reduce unemployment and informal employment, which is widespread in the Andean nation.
The law, passed by Congress, aims to create jobs for people between the ages of 18 and 24 by allowing businesses to hire them and put them on the payroll but without the social benefits of service compensation fund, bonuses, family bonus, and a share in profits. The social benefits are incorporated if the business continues to employ the person after he or she turns 25.
Youth protesters say the legislation would curb their labor rights.