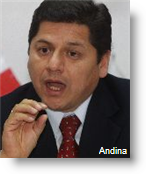 Peru's ombudsman has called for the government to create an agency responsible for finding those who were reported missing during the country's internal conflict in the 1980s and 1990s, state news agency Andina reported.
Eduardo Vega, the head of the Defensoria del Pueblo, said that finding the individuals is a "humanitarian task" that the government should complete.
"We need, and this is an appeal, to create an entity in charge of looking for disappeared people, with resources, equipment, and through this work that I would like to call a humanitarian task, recover their remains and hand them over to family members," Vega said.
Vega added that the internal conflict has left "a wound that hasn't yet been healed" in Peru, as many families still do not know what happened to the remains of their loved ones.
The Truth and Reconciliation Commission, CVR, in its 2003 report  initially listed 8,558 people as missing and included a register of 4,644 burial sites to exhume. However, by 2011 forensic specialists at the Legal Medicine Institute concluded that more than 15,000 disappeared during the 1980-2000 conflict and that there are more than 6,400 mass burial sites.    In 500 exhumations carried out to date, 2,478 bodies have been recovered, of which 60% have been identified and 53% have been returned to their relatives for burial.
Next week, starting Sept. 3, forensic specialists will begin exhuming bodies at a mass grave in an area in the La Mar province of Ayacucho known as Oreja de Perro (Dog's Ear), where 204 bodies of villagers killed by Shining Path rebels were buried.   Meanwhile in the Ayacucho capital of Huamanga, when there are sufficient resources, investigations continue at the Los Cabitos military barracks  —in investigations during 2005, 2007 and 2009, forensic specialists found 50 bodies and the partial remains of another 50, as well as four ovens, one with human remains, thus confirming the systematic torture, murder and disappearance of local villagers by military personnel during the conflict.
Forensic investigations are to be made on several other military barracks, when the Legal Medicine Institute is given the financial resources.
Almost 70,000 people were killed during the conflict between the Maoist-inspired Shining Path rebels and state security forces, according to the final report issued by the Truth and Reconciliation Commission.
The large majority of the people killed during the conflict were poor, indigenous people were caught in the middle of the conflict between the Shining Path and the state.