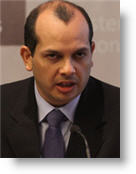 Peru's economy could grow as fast as 7 percent in the first quarter of this year, compared to the year-earlier period, according to Finance Minister Luis Miguel Castilla.
"It is still premature. Only a month has passed but if you look at the demand for cement, electricity and, mainly, imports of capital goods as indicators that predict economic performance in the first quarter, we can observe that we're going to see elevated growth in the first months of the year," Castilla told state news agency Andina.
Castilla, who is in Chicago today leading a three-city U.S. tour to promote Peru to investors, says his forecast for growth in the first quarter ranges from 6.5 percent to 7.0 percent.
"This is the projection that we're maintaining and it is in line with what could happen during the rest of the year," he said.
Castilla said that Peru's economy will continue to be driven by domestic demand, but that a stronger external situation will also help exports.
"We're observing a consumer boom in the country," he said.
Meanwhile, during a separate interview published in financial daily Gestion, Castilla said that the treasury plans to buy $4 billion this year abroad, aimed at slowing Peru's strengthening currency, the sol.
The purchase would include prepaying international debt worth some $2 billion.
A growing debate has emerged in Peru over the exchange rate between the sol and U.S. dollar following the Peruvian currency's appreciation of more than 5 percent last year against the greenback. Some economists are warning that more appreciation could hurt economic activity, while some analysts and politicians want the government to implement measures to prevent further strengthening.