By Nicholas Asheshov
✐ OP-ED Special to the Peruvian Times ☄

From some dusty official shelf, the burghers of Cusco have created a billion-dollar nightmare,  the Chinchero airport.
Thousands of tourists travel every day across this patchwork kaleidoscope of thousands of rolling acres of ancient potato and quinoa fields and grazing land, with oxen-drawn ploughs attended by Quechua family groups.   The tourists are on their way to Machu Picchu and already they are absorbing the medieval mystery of a great, little-known civilization.   They are in the cloud kingdom of the Incas.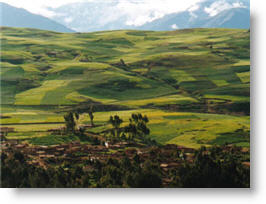 It is a great sight. The Chinchero massif is dominated by a jewel of a colonial church atop an Inca palazzo and terraces, with an Indian town below that was the setting for Peter Fonda and Dennis Hopper's 1971  classic "The Last Great Picture Show".
Indian weavers and their agriculturalist menfolk are today's inheritors of a two thousand year  tradition.
This will all be destroyed the day the bulldozers and dump trucks move in, watched by the sad, bleak snow peaks, a few miles away, of the cordilleras above Machu Picchu .   The inhabitants of Chinchero know it.  Everyone in Cusco knows it.  Most of them know, too, that the airport is not even needed, even if it were to be, in the words of Roger Valencia, Cusco's top guide and thoughtful ecologist, "properly managed."
But, again, as everyone here knows, it will be badly done.  The quality of the regional and municipal administrations of Cusco and Urubamba, of which Chinchero is a district, is Third World incompetent with a well-entrenched tradition of corruption.  It is not for lack of cash, though.  Cusco gets more than a billion  dollars just from Camisea gas royalties, and much more these days from tourism, which is booming.
But the crowded roads are thin and poorly designed.  All three of the heavy-duty bridges into the Valle Sagrado have collapsed.  The Vilcanota River leaves an embarrassing flotsam of plastic, raw sewage and chemicals as it surges through deep canyons past silent stone terraces on its way to Machu Picchu.  The previous President of the Cusco Region is in jail for theft and today's Mayor of Urubamba was thrown out by the authorities for corruption, and then promptly re-elected.
Forget the Ministry of Culture, the former Instituto Nacional de Cultura, whose Cusco office is a 3,000-strong gorilla.  The Environment Ministry is just a butterfly flapping its wings, here as elsewhere in the country.  These are the people who have encouraged the runaway growth of the illegal slum of   Machu Picchu pueblo,  Aguas Calientes, home to carpet-baggers and scalpers.
The INC has, even worse, overseen the virtual destruction of Ollantaytambo. This once noble stone-built Inca town has been a screaming traffic jam of tourist buses and heavy trucks since Perurail was allowed to turn the tiny country station into its terminus for the million tourists it takes to Machu Picchu, 25 miles down valley.
The Sacred Valley has become a conurbation of million-dollar maize fields among the hotels and weekend dachas.
The World Bank and the Finnish government have washed their hands of their Save the Vilcanota and Save Machu Picchu projects.
As if it mattered, the airport is a sleazy financial disaster for nearly all the 12,000 inhabitants of Chinchero, most of whom are Quechua-speaking comuneros. In a deal that was quietly railroaded through at the turn of the year, S/.138mn ($56mn) was handed to a  group of under three percent of  Chinchero's inhabitants.
That's it. That is what Chinchero will receive for being destroyed.   The scheme is so badly designed that this cash  S/.138mn has gone to just 426 people, the ones who happen to own the 350 hectares, out of the district's 70,000, where the airstrip is to be laid.
This is the comunidad of Yanacona which, a couple of days after the money from the Regional Government was received,  was taken over by Humberto Huaman, who won by 326 against 325 votes.  Humberto had just been sentenced to four years' jail, suspended, for problems when he was alcalde of Chinchero three years ago.  Huaman is a member of Tierra y Libertad, a son of Shining Path.   He will be helping the Yanacona folks to share out S/11mn in communal cash.
Half of the Yanacona owners, despite the S/.138mn windfall, voted against. "The old men, none of them wanted to sell," says the alcalde of Chinchero, Juan Carlos Gomez.  A bright, engaging 32-year-old, Gomez lives in Chinchero with his mum, and is trying to save what he can of Chinchero.
A further S/.48mn has gone to another district, Raachi, for the purchase of their land for the northern end of the runway.  This means that the Cusco government has already put down $74mn in buying ancient potato fields and rough grazing land.  They have achieved the impressive feat of grossly overpaying for a patch of some of the world's highest agricultural land and cheating, at the same time, most of the people involved.
The present Cusco airport, at 3,300 m.a.s.l., lies on 240 valuable hectares.  It will last for another dozen, maybe 20, years with modest extensions of the runway and handling facilities, Corpac officials here tell me. They have already bought the lights for night flying.
Chinchero is 400m higher, a lot at these altitudes  This means that Chinchero will not be able to handle direct flights from the United States, much less Europe.
During the December-to-April rains, Chinchero is usually in the clouds.  I have to drive through with my lights on high beam on the way to Cusco.  Most nights the temperature is below freezing.  Hailstorms hit Chinchero on 150 days of the year.
In contrast, the Pampa de Anta, several hundred meters lower, the same height as Cusco itself and 20 minutes nearer to Cuzsco, is a much less damaging choice and used to be a lake. You could land a plane on it tomorrow, not the case with the rolling potato fields of Chinchero.
Before they rush into a non-urgent Chinchero disaster, someone should solve the overcrowding at Machu Picchu, which is even worse than the official computers suggest, as INC people often run rackets selling the same tickets twice.
In Chinchero, Alcalde Juan Carlos Gomez is from another deck of cards to today's Cusco and Urubamba authorities.  He is a lively, studious and seasoned politician and administrator who talks readily about a reasonable solution to an impossible problem.
He says, "I have asked the Prime Minister and other members of the cabinet to form a top-level commission to try to ensure that the ecological resources and cultural traditions of Chinchero are protected."
He adds: "In Cusco, no one wants to talk to me."
Nicholas Asheshov lives in Urubamba.  A veteran journalist, noted explorer and entrepreneur, he was editor of the Peruvian Times from 1969 to 1990.

This article was first published in Spanish in Caretas magazine this week.