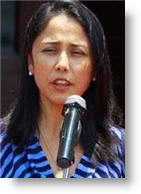 The ruling Nacionalista party's decision this past weekend to appoint first lady Nadine Heredia as the party's interim president has been swiftly met by criticism from opposition politicians.
Congressmen Mauricio Mulder of the Apra party and Julio Gagó of the Fujimorista party Fuerza Popular said Heredia's appointement is the Nacionalista's first step towards perpetuating  its hold on government power.
Political analyst and former Interior minister Fernando Rospigliosi agreed, describing the Nacionalista party as "a type of monarchy, a family party, there is no internal democracy, there are only two leaders."
Congress president Fredy Otarola, however,  said Heredia's appointment in no way opened up the possibility of her possible candidacy in the 2016 presidential elections. 
Heredia, co-founder with her husband of the Nacionalista party and a key leader, is a popular figure in the provinces and has been involved in several international initiatives, most recently as ambassador for the UN's International Year of the Quinoa.  
But both President Humala and Heredia on several occasions have denied any plans to change the current law, which prohibits an incumbent's relatives to be candidates in the immediately subsequent presidential term.  Her prominence, however, has been sharply criticized by the opposition since her husband was sworn in as President in 2011. 
Otarola said that during the party assembly this past weekend, President Humala was re-elected president of the party for the 2014-2017 term, but that he had asked that the position be delegated to his wife because of the demands on his time as head of state.
The national executive committee elected for the three-year term also includes Otarola, and congress members Daniel Abugattas, Victor Isla (both former presidents of the Congress), Ana Maria Solorzano, and Sergio Tejada (president of the congressional commission investigating President Alan Garcia's administration), and the Palace press secretary, Cynthia Montes.