The district attorney in charge of corruption crimes is to open a preliminary investigation into the pardon granted earlier this month by President Garcia to former TV mogul José Enrique Crousillat.
The investigation is being made into possible irregularities in the request for the pardon. The former majority shareholder of America Television was sentenced last year to eight years in prison but has been held in a private clinic for the past 10 months on grounds of to ill health.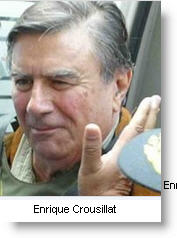 The President granted the pardon on Dec. 11 for "humanitarian reasons", on the grounds that Crousillat, 77, suffers from a series of ailments, including heart disease, depression and diabetes, which could put his life at risk.
 However, the head of the national prison system, INPE, Jorge León, resigned more than a week ago, allegedly over disagreements with the Ministry of Justice's pardons commission, and a physician who headed the medical board at the San Jorge first offenders' prison, and who gave Crousillat a stable bill of health on three occasions, has been transferred to another penitentiary. The Ministry of Justice commission that recommended the pardon did not include these medical reports in its considerations. 
In March this year, the head of the San Jorge prison, César Orozco, who has since resigned, warned the Ministry of Justice that attempts were being made by Crousillat so as not to return to the prison despite his good health condition.
Crousillat and his son, José Francisco, fled to Argentina in 2001 when video tapes recorded in the National Intelligence Service, SIN, proved the wide corruption network that ex-President Fujimori and his spy chief Vladimiro Montesinos had woven to control the media and public opinion. Early in 2006, the Crousillats were extradited from Tucumán to face trial in Lima.
 Crousillat was sentenced to eight years in prison and charged a fine of $52 million, convicted of "selling" America Television's editorial line to the Fujimori government in the 1990s. Two videotapes, recorded in the SIN offices in 1999, show Crousillat and his son, José Francisco, receiving bundles of dollar bills from Vladimiro Montesinos. In one recording, on Feb. 26 that year, Montesinos counted the $100,000 packets to make up $1 million, "for January and February." Crousillat and his son received about $619,000 a month to broadcast the news as dictated by Montesinos. 
 The Minister of Justice, Aurelio Pastor, said this week that there will be "no turning back" on the pardon, but the dean of Peru's Bar Associations, Walter Gutiérrez, said any pardon can be annulled if the reasons for the pardon prove to be incorrect. 
Some critics have expressed fear that Crousillat's release could be a first step towards other similar decisions, including an eventual pardon for Alberto Fujimori. Although the law does not allow pardon or parole for crimes such as kidnapping and extortion –the charges for Fujimori's 25-year sentence—Fujimori's health is considerably less robust than Crousillat's.
"I hope there is nothing hidden in this benefit, because that would be regrettable," said ex-President Alejandro Toledo during a meeting at the Universidad del Centro in Huancayo.